Morecambe Attractions
Morecambe Music and Entertainment Venue
The Platform hosts a strong touring programme from jazz and blues to world music, folk and classical. Also home to the Prize winning Visitor Information Centre. The Platform is a dedicated live performance venue, uniquely situated in a restored Edwardian railway station on Morecambe promenade. Telephone: 01524 582803.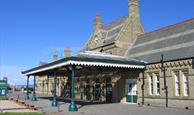 Morecambe Golf Club
Morecambe Golf Club is a private members club situated on the north-west tip of the Lancashire coast. The course is just over a mile from the centre of the popular coastal resort of Morecambe, over-looking magnificent Morecambe Bay.
Morecambe has long been recognised as the gateway to the English Lake District and a glance from most of our tees will confirm why. The views are simply glorious with the Lakeland mountains and fells stretching out beyond the magnificent bay and providing the best possible back drop for a relaxing round on our challenging course. Telephone: 01524 412841.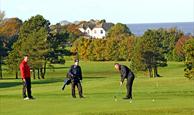 Morecambe Bay Tern Project
Celebrating the birds and other diverse wildlife of Morecambe Bay, the Tern project is a stunning series of award-winning sculptures situated along Morecambe's seafront and promenade. Pick up a trail leaflet from Morecambe Visitor Info Ctr.
Steel cormorants, gannets and razorbills sit proudly on the roundabouts on Central Drive and on the top of bollards in the sea railings, whilst long lengths of fencing are enhanced with flocks of metal birds. On the Stone Jetty, behind the Midland Hotel, you can find a huge compass, work out various wordy puzzles, and discover a strange mythical bird. The trail extends towards the Festival Market where you can follow a path made up of poems, jokes and quotes by famous authors, musicians, entertainers and artists.
The highlight of the trail is the statue of Eric Morecambe, designed by Graham Ibbeson and opened by the Queen in 1999. Don't miss visiting this wonderful statue and having your photo taken with Eric in his famous comical pose!
For more information pop into Morecambe Visitor Information Centre, where you can pick up a trail leaflet in order to find all the sculptures. Telephone: 01524 582808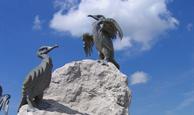 Happy Mount Park Morecambe
Originally created in the 1920s, Happy Mount Park was and is still very popular today. Woodland walks, Japanese Garden, putting and bowling, a children's Splashpark and play areas, miniature railway, crazy golf, swing boats and more.
Happy Mount Park Morecambe is proud of its reputation of being a traditional park for people of all ages. You can sit and relax or take a stroll in the attractive parkland setting, pay a visit to the popular cafe and enjoy the delights from a varied menu or partake in any of the park's other attractions/activities shown within this website (some of these facilities incur a charge).
During the year a variety of themed events take place and every Sunday from mid May to mid September you can enjoy the sounds from the very best of Brass Bands from around the North West. Telephone: 01524 582833.

Morecambe Bay Sailing School
Come sailing on beautiful Morecambe Bay in a small yacht. Book a short 'FUN SAIL' and experience the thrill of using the power of the wind in the sails. Royal Yachting Association 2-day courses are also available for beginners to advanced.
The North West specialists in teaching adult beginners how to sail a small yacht on the sea. You don't need to know anything about sailing - just a desire to get out on the sea in a safe & fun environment. Telephone: 07721 891615.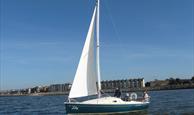 Morecambe Bay open top bus tours
The Heritage Bus Tour allows travellers to take in the very best of Morecambe on board a beautiful, vintage, open top bus.
During the summer months, the bus runs regularly (weather and private hire bookings permitting) between Happy Mount Park and the Winter Gardens in Morecambe so that visitors can enjoy the Promenade and seafront from a great vantage point!
Departing from the Winter Gardens to Happy Mount Park at hourly intervals, commencing 12 Noon-last journey 17.00.
Then departing Happy Mount Park at hourly intervals to Winter Gardens, commencing 12.30 until 17.30.
Picks up at every bus stop in between.
Operates Tuesday to Sunday, Easter to end of September. Telephone: 01524 422996.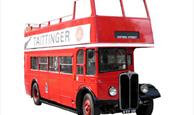 Morecambe's Festival Market
Enjoy the hustle and bustle of market shopping at its finest at Morecambe's Festival Market, overlooking Morecambe Bay and the famous Midland Hotel.
With over a hundred stalls selling an enormous selection of products, some that you would expect to find in a market, others unique to us, you are sure to find what you are looking for. There are two welcoming cafes serving homemade meals and cakes and onsite public toilets.
Shoppers can be certain to find a warm welcome from the established stall holders at this traditional market and if you happen to be visiting one of the special events hosted by the market, the atmosphere will be even better.
A trip to the market is ideal for visitors wanting to experience all that Morecambe has to offer. Within walking distance are some wonderful iconic buildings including the famous art deco Midland Hotel and the Winter Gardens. The promenade offers 5 miles of wonderful scenery with interesting features along the way such as artwork and sculptures, a stone jetty, award-winning flower beds and the world famous Eric Morecambe statue – bring your cameras to recreate that famous pose.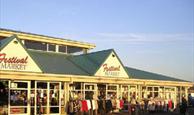 Access
The Festival Market is easily accessible by train, bus, bike and car. There are large adjoining car parks, and Morecambe train station and bus station are close by. The market is wheelchair friendly.
Opening hours
The market is open Tuesday, Thursday, Saturday and Sunday from 9am to 5pm (4.30pm winter) and all Bank Holidays from Easter to August. Telephone: 01524 414251.
Morecambe Sports Centre
This large sports and leisure centre offers a wide range of activities for everybody, including swimming, gym and sauna, exercise classes and badminton, conveniently located half-way between Lancaster and Morecambe.
Salt Ayre Sports Centre has ample free parking for customers and visitors and its own cafeteria 'Fresh Ayre'.
Indoor Facilities
Swimming pool, spa pool and waterslide. Main eight-lane, 33 metre pool with variable depth (up to two metres) to support casual swimming, swimming events and water polo.
Main sports hall. Large (eight badminton courts in size) activity area with terraflex flooring. Available for netball, hockey, volleyball, basketball, badminton, indoor football, short tennis and table tennis. Equipment can be hired for all activities.
Reflexions Health and Fitness Suite. A modern air-conditioned facility with an extensive range of exercise equipment including cardiovascular machines, weight resistance stations and a designated free weights area. A membership scheme is available.
Heatwaves Sauna and Steam Suite. Sauna, steamroom and relaxation lounge. Admission includes a free swim (during public sessions only).
Other indoor activities include gymnastics, trampolining, martial arts and archery.
Outdoor Facilities
Floodlit athletics track. An eight lane all-weather track with full field facilities, available for casual, club and private hire use all year round.
Grass and synthetic sports pitches. Three full-size grass football pitches and one full-size floodlit synthetic pitch. The synthetic pitch can be used for football, hockey and special events.
Purpose-built cycle track, available for casual, club and private hire. Telephone: 01524 847540.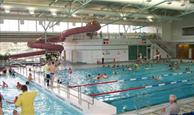 Promenade Music
Established in 1989, Promenade Music Morecambe is a successful family owned independent music shop that offers customers "one of the largest and best stocked music shops in the North of England". As a past winner of the highly prestigious Lancaster City Council's 'Business of the Year', they continue to supply customers with Great Brands at Great Prices whilst still offering Great Service.
Address: 404 Marine Road East, Morecambe LA4 5AR. Phone: 01524 410202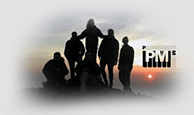 Pleasureland Amusements
Amusement arcades with games and machines - fun for all the family! Telephone: 01524 424212.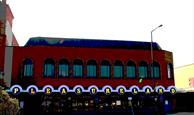 Heysham Heritage Centre
This 17th-Century longhouse (cottage and barn) is an unusual example of surviving village architecture. Today, Heysham Heritage Centre houses all of Heysham's fascinating history superbly captured in its dedicated displays & exhibitions.
The Heritage Trust for the North West acquired the two lock up shops in 1999, and converted them, with grant aid from many organisations and individuals, to form a small Heritage Centre for Heysham Village. The Centre was opened in 2000, and has been visited by over 100,000 people, exceeding all initial expectations. It is run entirely by volunteers from Heysham Heritage Association. Telephone: 01524 853465.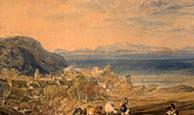 The Way of the Roses
A spectacular cycling route from Morecambe Bay to Bridlington Bay.
From coast to coast, you'll cycle across beautiful, varied landscape including the Lune Valley, Yorkshire Dales, Nidderdale and the Yorkshire Wolds and use traffic-free paths, on-road cycle lanes, country lanes and quieter roads. It's a challenge but rewarding cycling adventure for all. Combine with other routes to make a longer cycle touring holiday.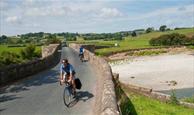 Morecambe Soul Bowl
At Soul Bowl Boutique Bowling Morecambe we love bowling, we love food and drink, we love friends and we love family. Why can't we have them all together? 10 lanes of bowling cool, a heavenly heap of dishes for you, and with our luxury play bar area still with some fun and games to keep you amused. Everything you need for a brilliant time. Telephone: 01524 587 117.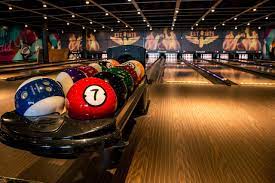 Morecambe's Arndale Shopping Centre
A range of high street and specialist shops under one roof. They have have over 30 essential stores including Tesco, Argos, Game, The Works, Iceland, Bodycare. Telephone: 01524 416922.

Reel Cinema Morecambe
Make time to catch the film you've been wanting to see at this multiplex cinema in Morecambe. Offering a choice of 4 of the current blockbusters.
Festival Market car park is free after 6pm. All the latest films and equipped with Digital sound and projection system. Telephone: 01524 413935.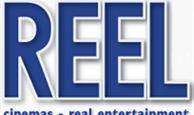 Heysham Golf Club
A short distance from the sea. Heysham Golf Club is a challenge for golfers of all handicaps. With a prevailing South West wind and seven par 4's of over 400 yards this course is a test for golfers of all abilities.
The elevated part of the Par 70 course has stunning views across Morecambe Bay to the Lakeland Hills in the North, the Pennines to the East and across the Lune Estuary to Blackpool in the South. The Art Deco Clubhouse has panoramic views of the course from all the lounges and is host to a licensed bar, catering facilities and games room. Telephone: 01524 851011.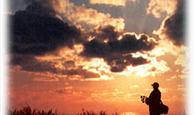 Eric Morecambe Statue
With a stunning backdrop of Morecambe Bay, no trip to Morecambe is complete without seeing the larger-than-life Eric Morecambe Statue. With characteristic pose, and never alone, it also shows his binoculars and keen interest in ornithology.
The bronze statue of comedian Eric Morecambe which took sculptor Graham Ibbeson six years to complete has been a very popular feature on Morecambe Promenade since it was unveiled by the Queen in 1999. It features Eric in a pose from the famous 'Bring Me Sunshine' dance he used to do with his partner Ernie Wise at the end of their shows.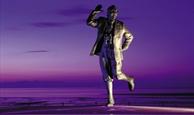 Morecambe Tourist Information Centre
Morecambe Visitor Centre offers local and national information for tourists, accommodation booking service as well as gifts and souvenirs. 5 minutes' walk from the railway station, buses stop on the Promenade right outside the centre. Telephone: 01524 582808.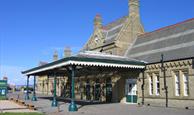 Morecambe Cycle Hire
Sunshine Cycle Hire can be found in Cooper`s Amusements on the promenade in Morecambe.
The bikes come in all shapes and sizes and you can also hire trailers, tag-a-longs and child seats. They have bikes to fit everyone including a new tricycle for people who are worried about their balance. The prize hire is a beautiful tandem with white wall tyres and seats. Reasonable rates for the bikes mean you can take them out for 2 hours, a half day or a full day and family deals include bikes for everyone! Telephone: 01524 414709.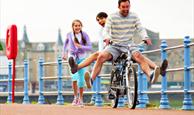 Leighton Moss RSPB Reserve
Leighton Moss RSPB reserve is a nature reserve near Morecambe, which has been in the care of the Royal Society for the Protection of Birds since 1964. It is situated at Silverdale near Carnforth, on the edge of Morecambe Bay. Leighton Moss contains the largest area of reedbeds in north-west England, which are managed to prevent them drying out and to prevent saline intrusion from the coast. It provides habitats for many species of wildlife, including bitterns and red deer. As a wetland of international importance, it was designated a Ramsar site in 1985. Telephone: 01524 701601.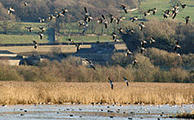 Morecambe Over 55's Community Centre
The Rainbow Centre is a community centre for the over 55's providing fun, leisure and educational activities. They have about 20 different activities taking place throughout the week. Telephone: 01524 415502.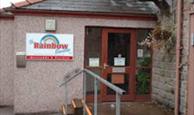 Morecambe Beach
Following years of coastal investment, Morecambe is proud of its new glistening sands and 5 miles of level promenade. The Stone Jetty, with its Tern Project inspired by the Bay's wildlife, has become a place of fun and artistic beauty.
Morecambe North Beach
Morecambe Beach is on the Fylde coast of Lancashire with a traditional family sandy beach overlooking the beautiful Morecambe Bay, backed by arcades, entertainment and shops.
Morecambe South Beach
A 748 meters traditional English sandy bay backed by a long promenade, amusements and some wonderful Tern Project sculptures and pavement games.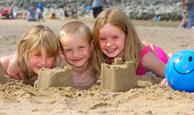 The West End Gardens
A visit to The West End Gardens, situated between The Battery and Regent Roadon Morecambe Promenade, offers a welcome place to relax and enjoy astonishing views across the bay to Cumbria. Amazing sunsets and four miles of promenade nearby.
As part of a regeneration scheme, the newly landscaped Promenade Gardens incorporated a randomly controlled water feature consisting of 12 bold foaming jets rising and falling out of the granite floor set out in an arc over 24m long.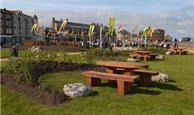 Morecambe Winter Gardens
The Morecambe Winter Gardens was originally built as the Victoria Pavilion Theatre in 1897. Moss Empires took over the Winter Gardens in the 1950s, however, it closed in 1977. The Friends of the Winter Gardens were formed in 1986 to support the restoration of this beautiful building, famed for music, cabaret, dancing and sporting events in its day. It is occasionally open to the public for viewing. Telephone: 01524 409009.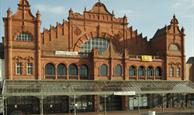 Ghosts of The Winter Gardens
It is said that the stage in the main auditorium is one of the most haunted places in the Gardens. People on one side of the stage are sometimes pushed, slapped, poked and harassed by an unseen force. The ghost of a seamstress who aspired to one day become a professional dancer and failed to achieve that most elusive fame is said to still haunt one of the dressing rooms of the auditorium. It is said that there are also other ghosts in the bar and in the many stairwells.
Shadows have been seen moving across the stage and several people have reported at the same time seeing a man on various occasions. From the higher area of the theatre, it is said that the ghostly shadow of a young boy can be often seen running across the side of the theatre.
Several paranormal investigators who have been to the building, reported that they were able to record several EVP's or electronic voice phenomenon. They have also reported seeing footprints in areas of the building where nobody has been, as well as hearing strange sounds and voices.
People have said that while they were in the building they could hear footsteps following them around, as well as the sound of men howling in torment. Telephone 0115 9722534.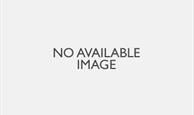 Regent Park Morecambe
This popular park was once Morecambe's principal entertainment centre. Abandoned from the mid 1890s, and eventually bought by Morecambe Council in 1924, creating the new park which recently had a face-lift and remains popular with bowlers.
Situated half a mile from the promenade in the West End of Morecambe on Regent Road. Regent Park is the venue for various bowling tournaments throughout the year including two festivals in May and September. Telephone: 01524 400414.
Wacky Warehouse
Indoor play centre for kids. The home of swinging and sliding, crawling and climbing, and the Wackiest kids around! Telephone: 01524 410724.